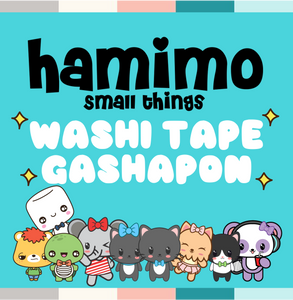 Washi Tape Gashapon -- EVERY SPIN IS A WINNER
Take a spin of the Washi Tape Gashapon to win a random Hamimo Small Things Washi Tape, for a discounted price (normally $6).  Love washi tape and want to grow your collection? Take a spin.  Want fate to decide your first ever Hamimo Washi Tape?  Take a spin.  Every spin is a winner.
Each washi tape roll is protected by a heat shrink wrap packing and is marked with a sticker label.  Dimensions:  15mm x 10m. 

Items are individually priced.  Shipped via USPS, in a secure bubble mailer.